There was a data breach, the clock starts ticking. The dataset is large. How do you quickly determine who's affected and how?
Who's Data Was Breached?
Manual discovery of sensitive information is tedious and costly, so automated solutions like PII Tools come in handy. In its latest 3.7.0 release, we implemented new features in PII Tools to support breach workflows. In addition to the existing interactive drill-down reports and Excel reports, there's now a new report type called "Affected Persons".
The Affected Persons report lists names of all the people appearing in the data, with the most frequent on top (you can also sort alphabetically). This report is interactive: clicking on any name brings up a listing of the exact locations – files, emails, attachments, databases – where that person appears. Drilling down further, a click on a location will display the full scope of sensitive data found: all PII, PCI and PHI data detected by PII Tools.
The reports work best in conjunction with the PII analytics dashboard, where you can select which files to view and export using advanced filters.
All reports can also be generated automatically, using a programmatic API for integration. For technical details, refer to the online product documentation: https://documentation.pii-tools.com/#affected-persons/.
This is an article about PII Tools, our on-prem (self-hosted) software for accurate personal and sensitive data discovery. PII Tools uses proprietary context-aware AI technology to make the life of CISO, Security, Legal & Privacy teams easier.


Want to learn more about how you can prevent data breaches? Check out Breach Incident Management.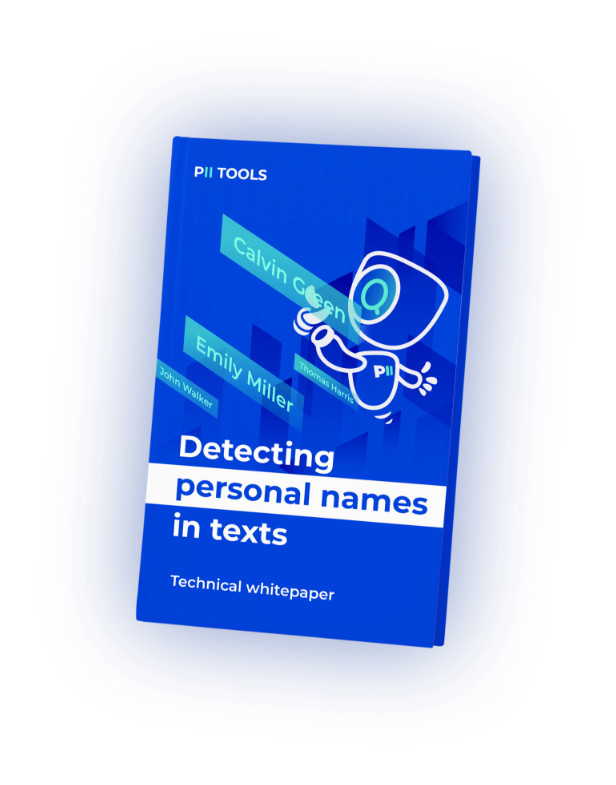 Download our AI whitepaper
Detecting Personal Names in Text