Personal data comes in many shapes and sizes. As business owners, company employees, and internet consumers, it's our job to know what personal data is and how to locate and protect it. But now that the new millennium is well on its way, is there any new technology out there that can help?
Where to Get Started?
Step one is learning how to properly identify personal data. The official definition reads "any information relating to an identified or identifiable natural person". In layman's terms, that means everything from race and health details, to home addresses, passport numbers, and sexual orientation.
Really any information that identifies you is considered personal data. If you'd like to learn more and get into the nitty-gritty of PII (Personally Identifiable Information), check out our article What is PII and How Does It Affect You?
How to Find It?
Now that we're a bit more familiar with PII, the next issue deals with actually locating and securing it. If you run or work for a small company, this might not present too big of an obstacle. You can simply manually go through all the online files you have for yourself and all your employees, every company email you've ever sent, comb every database table you have, review your cloud storage... Alright, that's starting to feel like a lot!
Thankfully, we live in the 21st century, and technology is on your side. In 2021, there are many ways you can identify personal data and ensure it lives only in designated areas. The best method for the modern man or woman is implementing expert auditing software, like the kind offered by PII Tools.
An Auditor's Best Friend
PII Tools can be used by professional auditors or your data protection officers to run a multi-layered scan of all the data your company stores, personal or otherwise. Its greatest advantage is its self-hosted solution with +99% accuracy. With this detailed look at your data, you can make certain that you're not breaking any GDPR, HIPAA, or CCPA regulations, just to name a few.
But there's still more to it. Not only does your auditor find personal data with PII Tools, but they can also improve your internal processes to mitigate risk, protect against unwarranted breach incidents, and provide generated reports that clearly lay out everything you need to know about your data, where it lives, and where any possible issues may be hiding.
The way that PII Tools software is able to do all this is quite remarkable. Not only can it locate text, such as names, addresses, and numbers in 400+ file formats, but it can also find PII in scanned PDFs or uploaded images, meaning even a picture of a passport with sensitive information won't slip by.
Bringing Something New in the New Millennium
Now that you've implemented the software and discovered any at-risk information, what do you do now? The final step is to clean up this personal data. In other words, it's time to either delete, quarantine, encrypt, or transfer this information to storages with the right access control.
Here's where PII Tools can help you once again. Another advantage of the software is its remediation feature. Use this tool to get all your company's data where it should be. No more being at risk of receiving a regulatory fine for storing sensitive information in non-compliant locations. Protect yourself, your company, and your clients' privacy today with PII Tools.
The Future is Now
In 2021, technology is really doing the heavy lifting when it comes to identifying and securing personal data. Assuming you already have an auditor as part of your team, their job is only getting easier with each passing year. Do them, and yourself, a favor and see what PII Tools can do for you. There's never been an easier time to protect your personal data.
Need to Identify the Personal Data in Your Company? Schedule a Free Demo Now!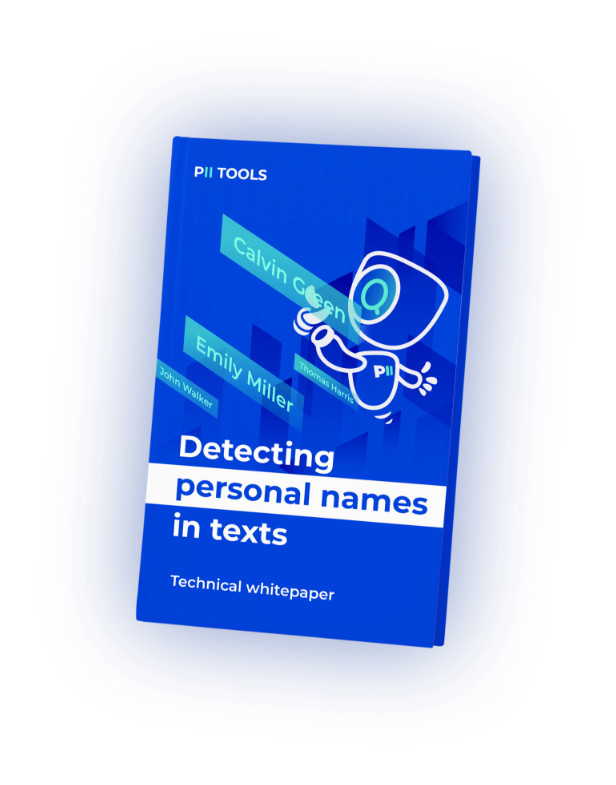 Download our AI whitepaper
Detecting Personal Names in Text